SENATOR SHELBY AWARDED "FRIEND OF THE INDUSTRY" RECOGNITION FROM MANUFACTURE ALABAMA
SENATOR SHELBY AWARDED "FRIEND OF THE INDUSTRY" RECOGNITION FROM MANUFACTURE ALABAMA
U.S. Senator Richard Shelby was honored with the Friend of the Industry Award from Manufacture Alabama during the association's annual DC Fly-In on Tuesday, June 7, 2022.
The Friend of the Industry award recognizes public officials, community leaders, and industry representatives for their outstanding work that benefits all aspects of the state's trade association dedicated to the needs of manufacturers. Recipients are those who have made recent significant contributions to the advancement of the manufacturing industry in Alabama.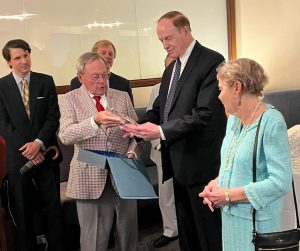 "Senator Shelby has been a strong voice for Alabama manufacturers in Washington and we have been blessed to have his presence as one of the most influential leaders," said George Clark, Manufacture Alabama president. "Throughout his remarkable career, Senator Shelby has stood up for Alabama manufacturers, fighting federal bureaucracy and focusing on the true needs of Alabama which has enabled historic growth in the industry. Alabama is a better state because of the dedicated service of Senator Richard Shelby."
Since being elected to the U.S. Congress in 1978 and the U.S. Senate in 1986, Senator Shelby has focused on expanding economic investment and job growth throughout Alabama. He has been instrumental in deepening and widening the Port of Mobile, a project that will have a monumental and long-term impact on Alabama's economy. Most recently, Senator Shelby secured millions in defense funding for Alabama impacting the Wiregrass, North Alabama, Anniston, Birmingham, Auburn and Mobile. The long-time Senator from Alabama has been influential in growing the state's automotive industry, as well as its additive manufacturing presence. In addition to creating manufacturing centers at universities, Senator Shelby has worked to transform the entire state into a hub for aerospace and defense companies, resulting in thousands upon thousands of manufacturing jobs. In Congress, Senator Shelby has advocated for Alabama's workforce and positioned the state to be a key player in the manufacturing industry.
"I am honored to receive this award from Manufacture Alabama. I have long-believed in our state's manufacturing sector, as it plays a vital role in generating a well-trained workforce, high-paying jobs, and significant economic growth. If Alabama is to remain successful, we must continue to focus on enhancing our manufacturing industry and supporting the lasting effects it has on the entire state," said Senator Shelby.
###
Manufacture Alabama is the only trade association in the state dedicated exclusively to the competitive, legislative, regulatory and operational interests and needs of manufacturers and their partner industries and businesses. MA represents hundreds of companies – from the most recognized international corporations to small, family-owned operations – that share common interests and face similar competitive challenges. Each one is a vital component of Alabama's economy and job base. To learn more, visit: https://www.manufacturealabama.org