MANUFACTURE ALABAMA ENDORSES WES ALLEN FOR SECRETARY OF STATE
MANUFACTURE ALABAMA ENDORSES WES ALLEN FOR SECRETARY OF STATE
MONTGOMERY—Manufacture Alabama is proud to announce its full endorsement of Wes Allen for Secretary of State.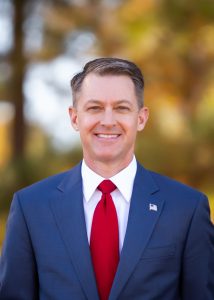 "Manufacture Alabama is endorsing Wes Allen for Secretary of State due to his unwavering commitment to the State of Alabama and its citizens," said George Clark, president of Manufacture Alabama. "As a member of the House of Representatives, Wes has supported issues critical to the success of our state's manufacturing industry and he brings the necessary skill set and experience to effectively oversee Alabama's business filings process and to ensure that our elections are secure. On behalf of our members, we are
pleased to support Wes Allen with our endorsement for Secretary of State."
"I am honored to receive the endorsement of Manufacture Alabama," Wes Allen said. "The Secretary of State's Office is critical to the business activities of Alabama's businesses, large and small, through the office's business services section. I am committed to making the interactions that businesses and individuals have with the Secretary of State's Office as efficient and customer-friendly as possible."
Wes Allen is currently a member of the Alabama House of Representatives representing District 89. He is seeking the Republican nomination for the office of Alabama's Secretary of State. His name will appear on the Republican ballot during the state's May 24, 2022 primary election.
###
Manufacture Alabama is the only trade association in the state dedicated exclusively to the competitive, legislative, regulatory and operational interests and needs of manufacturers and their partner industries and businesses. MA represents hundreds of companies – from the most recognized international corporations to small, family-owned operations – that share common interests and face similar competitive challenges. Each one is a vital component of Alabama's economy and job base. To learn more, visit: https://www.manufacturealabama.org